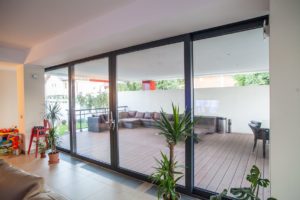 Reynaers CP 130 Aluminium Slide & Lift-Slide Doors
The Reynaers aluminium CP 130 Slide and Lift-Slide patio door is a versatile door system that offers a multitude of options with various opening possibilities. Suitable for use in domestic and light commercial applications, the CP 130 doors are available in two variations:  a sliding door system and a lift and slide system. Both door styles are well insulated which meets the highest requirements with regard to insulation, stability and safety.
Features
The CP 130 is available with various opening options. A low threshold option is also available making it a suitable sliding door for building accessibility. A special corner solution makes it possible to open up spaces without any fixed corner element, creating perfect and clear continuity between the indoor and outdoor spaces.

Maximum vent weight of up to 300 kg.

Can comply with burglar resistance class 2, offering a safe and secure solution.

Panes can be up to 2700mm wide

Sliding door has monorail, duo rail and 3-rail options

Lift and Slide door has monorail, due rail, 3-rail and multi-rail options

Pocket solution for Lift and Slide door in duo rail, 3 rail up to 8 rail options
RELIABILITY
On time in full is what customers expect and what we at Fentrade deliver – everytime!
SERVICE
Quotes returned within 24 hours, phone calls always returned and technical assistance always available, all part of the service at Fentrade!
QUALITY
From incoming materials to finished goods, quality is at the heart of everything we do at Fentrade!


CONTACT US

If you would like to request a quote or have questions regarding our products, please click here.